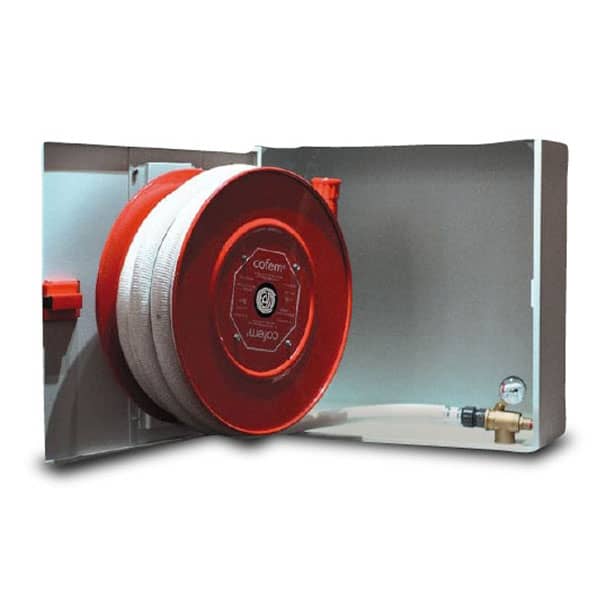 Fire hose cabinet equipped Ø25 mm according to UNE / EN 671-1 standard and 20 m semirigid hose manufactured according UNE 694.
Horizontal cabinet made of steel plate of 1,5mm thickness, painted in grey color RAL 7035, sizes 570x570x255mm, with blind door painted in the same color, with easy to open lock, provided with a pre-hole for the supply, hose, nozzle, seat valve, manometer and hose supply.
The equipment can be made in another color, with the RAL code provided by the costumer, or made of stainless steel, and can be mount in a bow for mounting the equipment on the floor.
Features
Reel installed in the cabinet door for easy handling.
Reel with Ø450 disks, painted in red, with axial supply.
Semi-rigid hose Ø25 and 20 m long, made of according to EN 694 standard and N mark of conformity with this standard.
Hose guide that allows the hose output in any direction in the front 180°.
Hose nozzle of three positions: close, spray and jet, connected to the end of the hose by threaded prop.
Valve at 90º of 1″", with ¼"" manometer outlet.
Manometer graduated from 0 to 16 bars.
Supply hose between valve and reeling frame, with a Ø 25 mm semi-rigid hose.
Manuals
Login to private area to check the product documentation.